« United States of Tara | Home | Our President is Black! »
January 20, 2009
Inaugration day!
It really happened! In all the excitement of Obama's inauguration and the outrageously optimistic hopes we all have for the new day dawning in America, I almost forgot how great it would feel to watch Bush leaving the White House, for ever. Hallelujah.
Cushie was there in DC for the big events, so hopefully we'll get a recap from her, but for now, here are some highlights:
Rahm Emanual hamming it up:
Dick Cheney channeling Mr. Potter:
A procession of Indian school children in Obama masks:
and maybe the most relieved person in America today, George W. Bush.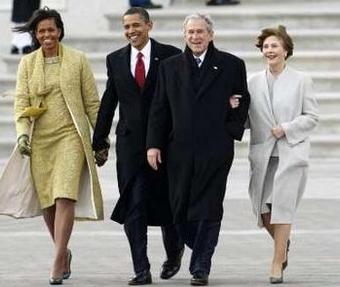 That guy is so psyched to get the hell out of there.
Lots of parties are going on around town tonight. Listings at Gothamist, NY Mag.
Wherever you go, expect a lot of blue (and red?) cocktails, like these tasty ones served at Vnyl today:
Trackback Pings
TrackBack URL for this entry:
http://amysrobot.amyinnewyork.com/mt/mt-tb.cgi/925
Comments
Post a comment