« Another holiday for non-New Yorkers | Home | Sin Nombre »
March 18, 2009
Outside chance the new Seth Rogen mall cop movie is funny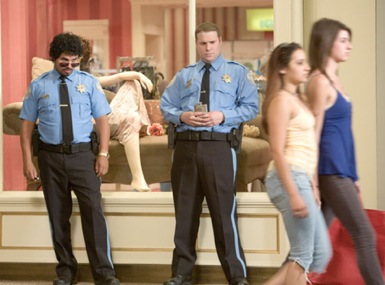 Have you seen the trailer for the new Seth Rogen mall cop sub-genre movie, Observe and Report? It doesn't look so great, and the timing of the release will automatically make people notice its unfortunate similarites to Paul Blart. Plus, wow, Seth Rogen sure is in a lot of movies these days.
But a few things suggest that it might be OK after all. Wired reports from South by Southwest that the screening was "transgressive and violently funny," and also points out that the director of the movie, Jody Hill, also created the new show on HBO, "Eastbound & Down", which stars Danny McBride as a washed-up ex-baseball player and by all accounts is pretty funny, especially if you like Talladega Nights.
Plus, the red-band trailer for Observe and Report that's up on the official site has lots of swearing, drug use, and brief nudity, which is a good sign. Another review on Cinematical says it's "a farce that deals in weirdness, darkness, and downright SHOCK." So I guess that means there's full frontal male nudity.
I still have faith in co-star Anna Faris even though The House Bunny was a big disappointment. In Smiley Face, she's a natural.
Here are some video clips of "Eastbound & Down". Pretty good, and special guest star Craig Robinson! Who I think is in even movies a year than Seth Rogen, but I never get sick of him.
Trackback Pings
TrackBack URL for this entry:
http://amysrobot.amyinnewyork.com/mt/mt-tb.cgi/949
Comments
Post a comment