« Note to Obama: This is not your next Poet Laureate | Home | Lars von Trier explores his dark side »
May 13, 2009
Aerosmith knows its audience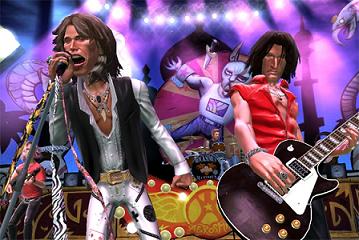 In a brilliant piece of cross-marketing, Aerosmith just made a deal with a gaming company to make a series of lottery games named after Aerosmith songs with pictures of the band on them. The company says they already have two dozen card designs based on different songs.
Now that is a band that truly understands its fan base. People love Aerosmith, people love scratch cards. Now they can buy their $2 "Sweet Emotion" lottery ticket at the same time they're picking up some grape soda and a thing of Cheetos at the 7-Eleven. It's beautiful.
Ross Dalton, the head of licensed content for GTECH, the lottery company, said they noticed that Aerosmith fans overlapped with the traditional lottery audience, which is male, middle-aged and lower middle class. "You could probably count on one hand the number of bands that would be both palatable in government-sponsored gaming and recognizable to a broad demographic. That's why we got very excited about Aerosmith."
I see what he means. Who's gonna buy a Coldplay scratch ticket?
Winners will win things like backstage passes, concert tickets, and, of course, more Aerosmith branded merchandise.
Now that Aerosmith has cornered the markets for band-branded video games with Guitar Hero and band-branded lottery tickets, you could probably guess that they've also branched into merchandise that appeals to more affluent demographics, such as stainless steel water bottles, onesies, and fancy pen sets. Thankfully, a girl can still get an Aerosmith belly ring too.
Trackback Pings
TrackBack URL for this entry:
http://amysrobot.amyinnewyork.com/mt/mt-tb.cgi/971
Comments
Post a comment