« People, we have a TUSH | Home | Headlines can be misleading »
July 13, 2005
Who'dat™: Summer Movie Edition
This handsome young actor caught our attention at a recent movie premiere. Who could it be?
Make a guess and click on the picture below to see if you're right.
The movie premiere in question was War of the Worlds: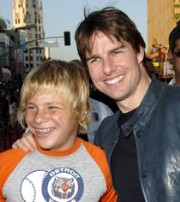 Lipnicki now officially joins Joseph Gordon Levitt
in the "still odd-looking, but maybe a little hunky with good lighting and makeup" category of former child stars.
Sorry, Mac - but you never really grew into the lips.
Trackback Pings
TrackBack URL for this entry:
http://amysrobot.amyinnewyork.com/mt/mt-tb.cgi/289