« A Woman Will Be President? Madness! | Home | Wire services agree: New Orleans police have "stepped it up a notch" »
September 30, 2005
Who would you rather be: Kate Bush or Madonna?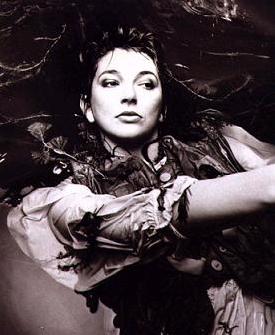 Remember Kate Bush? Well, she still exists. She's going to release her eighth album in November, a double album called Aerial. The thing about Kate Bush is, nobody has any idea what she's been doing or what her life is about. 12 years ago she put out her last album, The Red Shoes. She had a son. Other than that, who knows?
An article about her in The Guardian (that due to the total absence of any information about what Kate Bush has been doing all this time has very little actual content,) mostly consists of various record industry people extolling the mystery that surrounds her. "Kate's one of those artists who records and makes music to her own timescale rather than meet a record company's deadlines, which is fine by us," says a rep from EMI, her label.
The article also points out that Kate Bush and Madonna are the same age, 47. Both are living in England and their lives are somewhat quieter and more withdrawn than they used to be. And sure, Madonna is the biggest superstar in the world, has a bajillion dollars, and has been a self-made one-woman industry for decades. But Kate's not doing half bad either: she got her start somewhat earlier, in 1978 when she was just 17, when she released "Wuthering Heights". That song was the first single written and performed by a solo British woman to reach number one. Now she's estimated to be worth 25 million pounds, over $40 million, and is the second wealthiest British female solo artist behind Annie Lennox.
And as the editor of Q Magazine says, "There's nothing left that you don't know about Madonna whereas with Kate Bush there is everything left to know. She's retained that sense of enigma. We don't really know what has gone on in her life in the last 12 years. That's the key to her longevity. There's a lot held back."
I can just imagine Kate puttering around in the country somewhere with her small family, being really rich and sort of endearingly crazy, working on her album on and off for a reported six years, and including one song on it in which she addresses a pigeon. While Madonna puts out increasingly sad-looking albums and has to publicly defend her husband's disappointing movies. I know who I'd rather be.
Trackback Pings
TrackBack URL for this entry:
http://amysrobot.amyinnewyork.com/mt/mt-tb.cgi/348
Comments
Post a comment