« Inland Empire: Nightmarish freakshow, with a happy ending | Home | You are no longer responsible for getting speeding tickets: it's your sign's fault »
December 11, 2006
Who's Fatter?™
Today's arrest of Nicole Richie for DUI has led to the revelation in a police report that the 5'1" celeb-for-nothing weighs a mere EIGHTY-FIVE POUNDS.
Before she evaporates completely, we thought we'd take the opportunity to adapt our famous Who's Older?™ quiz to compare two entirely too skinny celebs. (Key difference: One has the excuse of being 12 years old.)
So here you go:
Who's Fatter?™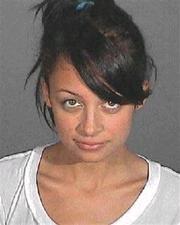 Nicole Richie or Dakota Fanning?
The answer? Nicole Richie weighs less than Dakota Fanning, assuming that Dakota is within about 10% of the weight of the average American twelve-year-old girl, which is 94 lbs. Too bad for you, Dakota -- next time that plum part for a 12-year-old with an eating disorder comes up, it might just go to Nicole instead.
categories: Celebrities, Crime
posted by amy at 3:01 PM | #
Trackback Pings
TrackBack URL for this entry:
http://amysrobot.amyinnewyork.com/mt/mt-tb.cgi/587
Comments
Post a comment