« Oscar hates America | Home | Someone who isn't Gary Condit arrested for killing Chandra Levy »
February 23, 2009
Pretending to be famous at the Oscars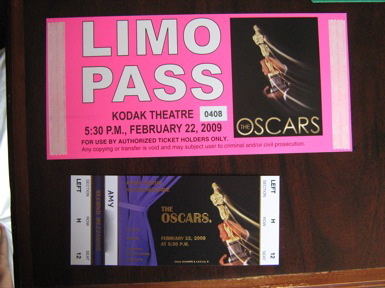 Oscars wooo!
It was a better show than usual this year, largely because of Hugh Jackman's natural showmanship and unstoppable appeal and charm and talent and handsomeness. Plus Ben Kingsley! And Beyoncé and her red glittery hips! [video] Woo!
If you watched the red carpet interviews and saw the event on TV, you pretty much saw everything there was to see. So here are just a few notes about being there and the whole crazy experience:
My buddy Shemrock and I arrived at the Kodak Theater later than planned, on account of the unwavering persecution of pedestrians in LA (see below.) So we had limited mingling time at the pre-show cocktail party. But we did walk the red carpet along with Kate Winslet, Penélope Cruz, Alicia Keys, and Taraji Nelson. I said hi to a very sweetly giddy Dev Patel and told him I dug him in "Skins", like a BBC America nerd.
Even when your hotel is only a couple of blocks away, you cannot walk to the Oscars. It might be simpler for everyone involved if you could walk up to the security check point and show your ticket and ID, but instead you have to wait in a really long line of cars, show a special car pass to a series of cops, get your car checked for explosives, and have a valet take it and park it in a huge garage and then get it for you again afterwards. Shemrock figured out that LA must be at the mercy of an all-powerful valet union that calls all the shots in the city.
It's true that the academy is largely made up of very elderly people. They were everywhere. The ones sitting next to me momentarily got excited about Eva Marie Saint, and spent the rest of the evening complaining about how long the show was.
During commercial breaks, Hugh Jackman kept the crowd entertained. Part way through, he read a note that his wife had passed up to him from out in the audience, which said, "Show's going great, dear. I'm hungry." So he got a plate of cookies, ran out into the audience and gave cookies to his wife, Sam Mendes, and some guy who looked like DJ Qualls.
We also got to see a little montage video of various celebrities talking about the Best Picture nominees. You can watch it here. There's Robert Evans, Michael Stipe, Flea, Mike Bloomberg, Mike Nichols, Hugh Hefner, Sarah Silverman, Mickey Rooney, Graydon Carter, Joe Torre, Spike Jonze, and the French guy from Man on Wire.
Oddest moment: The guys in front of me at the valet pick-up had their car pulled around. It was a hearse.
Funniest moment: Shemrock and I were approaching the theater, driving down Hollywood Blvd through screaming crowds of people behind barricades on the sidewalks who were there to see all the famous people driving by. Shem rolls down the windows and shouts, "I was in The Dark Knight!"
Luckily, I was too busy getting ready to go to the Oscars this year to get into a betting pool, because I would have gotten destroyed. Departures? Did anyone get that one right? Here are all the winners.
categories: Celebrities, Movies, Robot-on-the-Spot
posted by amy at 11:58 PM | #
Trackback Pings
TrackBack URL for this entry:
http://amysrobot.amyinnewyork.com/mt/mt-tb.cgi/941
Comments
Post a comment