« Sleep Dealer | Home | Scary NY indeed »
April 23, 2009
Dieting for dudes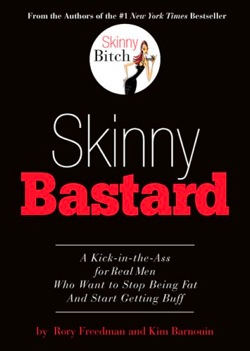 The ladies who brought us Skinny Bitch are coming out with a version for the fellas, which is titled Skinny Bastard.
The original book for women was marketed as a dieting book, but turned out to be a well-reasoned argument for becoming vegan. Some angry would-be skinny bitches did not want to hear about animal cruelty in their dieting books, but it still sold 1.1 million copies.
The publishing company admits that they expect mostly women to buy Skinny Bastard on behalf of their menfolk. An article in the Times quotes the new, guy-oriented introduction: "Chances are, you haven't done so badly, despite the few extra lbs you're carting around ... But don't kid yourself, pal: A hot-bodied man is a head-turner."
But come on, what kind of man is going to buy a book called Skinny Bastard? The subtitle is pretty good: "A Kick-In-The-Ass For Real Men Who Want to Stop Being Fat and Start Getting Buff", but the title is terrible. There are loads of women out there who would love it if people called them "skinny bitch" behind their backs. And there's definitely a segment of men who would be into the "bitch" part, but how many men aspire to be called "skinny"?
So let's think of some better titles that might interest that special population of men who buy dieting books. A few thoughts:
Fit Jerk
Stud Asshole
Tight-Ab Prick
Sculpted Moron
Pumped Dick
Ripped Fuckface
Beefy Jackass
Wouldn't you rather buy those titles? Browse the Men's Health site for a few minutes, I swear this is totally what guys want.

categories: Books, Culture, Gender, Health
posted by amy at 9:29 PM | #
Trackback Pings
TrackBack URL for this entry:
http://amysrobot.amyinnewyork.com/mt/mt-tb.cgi/964
Comments
Post a comment