« "Let's get one of Bambi holding the gun" | Home | In case you haven't seen the Shutter Island trailer enough »
August 24, 2009
Bye Bye Birdie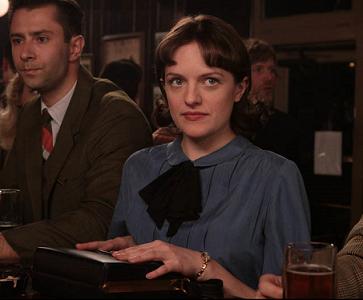 Having seen Viva Las Vegas many times, and watched in awe/horror as Ann-Margret yowled and flailed around in her orange sweater during that one sort of kooky dance number, I could relate to Peggy on last night's "Mad Men" watching Ann-Margret in awe/horror as she camped it up on screen like a crazy 8 year-old in a clip from Bye Bye Birdie [here's the clip]. Ann-Margret's mid-60's performance style seemed to be: mental sexy.
I liked the scenes of Peggy dismissing Ann-Margret's phony little-girl-but-sexy act as being irrelevant to women, and kind of insulting. Even better was the scene of Don reassuring her that, yes, the Bye Bye Birdie clip is ridiculous, but people are morons, powerless to resist Ann-Margret's tits and you have to market to them that way. I'm paraphrasing here; what he actually said was much more subtle, but that was the idea.
[Aside: In a perfect little indicator of the disturbing undercurrent of Bye Bye Birdie, the Daily News had an article today about a revival production that's coming to Broadway. The producers have decided to change a dance sequence in which the heroine cavorts friskily with a bunch of Shriners at their banquet because as Gina Gershon (who will play the character) said, "it seemed a little too gang rape-y."]
Even better was the scene of Peggy practicing her sex kitten routine in front of the mirror, then going out for some hot casual non-intercourse action with a guy she bags not by being a pretend-helpless little kitten, but by being a gutsy smart girl who's not afraid to take a big bite out of a fella's hamburger. It was pretty great.
Other highlights from last night: Don telling his wife's elderly dad to "drop your socks and grab... something", though I wish he'd just finished with "your cocks", as an ex-Army man making a joke with the phrase. This is cable, can't they say that?
Also: Roger Sterling's daughter is going to have one bummer of a wedding the day after JFK's assassination. I wonder if the reference to her wedding date (November 23, 1963) means that this season is going to include the assassination, or if we're just meant to recognize that poor Margaret Sterling's wedding is going to suck big time.

Trackback Pings
TrackBack URL for this entry:
http://amysrobot.amyinnewyork.com/mt/mt-tb.cgi/1015
Comments
Post a comment