« Friday reading | Home | Whiny teenage girls are driving even themselves nuts »
July 23, 2007
McDonald's introduces the Hugo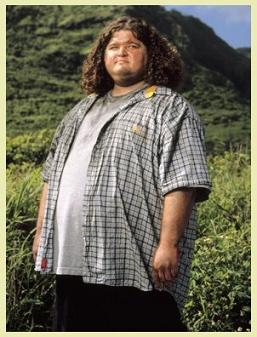 After some well-publicized flirtation with healthy food options, McDonald's has returned to doing what it does best, which the New York Times describes as "making people fat." After phasing out its Supersize menu in 2004, they have now started offering basically the exact same insulin-busting drink size of 42 oz., and they're calling it "Hugo".
A brilliant marketing strategy. Hugo, aka Hurley, is one of Lost's most lovable characters, maybe the most appealing morbidly obese person on television. OK, drinking a lot of Hugo-sized sodas (410 calories each! Before you even eat a single fry!) will definitely make you fat, but you'll be an adorable, funny, cuddly, Hugo kind of fat.
Now McDonald's can rebrand their ranch dressing--no more of that lame 170 calorie Newman's Own crap! And since we're all just giving up on salads and apple dippers, they might as well start selling candy bars, too.

categories: Business, Health, TV
posted by amy at 4:23 PM | #
Trackback Pings
TrackBack URL for this entry:
http://amysrobot.amyinnewyork.com/mt/mt-tb.cgi/685
Comments
Post a comment