« Reviews of Herzog's Bad Lieutenant | Home | Hey, Jennifer's Body is actually good! »
September 17, 2009
Store Fronts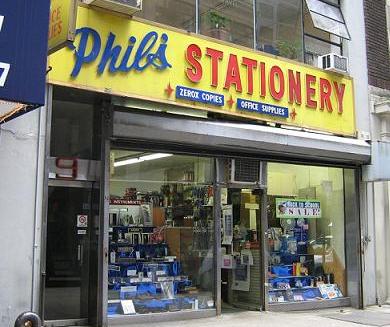 Yesterday I was out looking to buy some airmail stationery, which if you're like me, is something you haven't thought about since the time in your life when friends were studying abroad in college and you hadn't quite started using email as the sole means of communication with everyone you know. These days it's not so easy to find.
So I went into Phil's Stationery on East 47th, right smack in the middle of midtown and standing between a Chinese noodle shop and a nail salon, offering office supplies and "Zerox copies", according to the sign. It looks like the kind of place that would have functional, cheap, non-wedding-invitation-oriented stationery that hardly anyone has been interested in buying for at least ten years.
They did! The employee who helped me walked past a small display of day planners and toner cartridges and randomly piled stacks of paper, dug around among the dusty boxes, then rummaged through a huge, falling-over pile of stuff on a back shelf. He pulled out a crumpled pad of airmail stationery with the price $1.89 printed right on the front sheet, and a package of airmail envelopes (the kind with a red and blue pattern along the edges) that had already been opened and half used and was yellowing with age. An unseen manager in the basement shouted back and forth with the employee through an old dumbwaiter shaft that opened onto the sales floor, and they decided on a price of $1.50. "Perfect!," I said, and bought both from a seriously elderly woman with an impressively thick (Polish?) accent.
The whole process reminded me of a great exhibit I saw the other day at the Clic Gallery on Centre Street in Soho. The exhibit is a collection of photographs by James and Karla Murray called "Store Front: The Disappearing Face of New York", and features lots of oldtime store fronts from all over the city for bakeries, discount stores, record stores, diners, and barber shops, all from before the era of printed awnings that identify most street-level businesses today. There are lots of places I see all the time in there, like the Film Center Cafe, Smith's Bar & Restaurant, and Clover Delicatessen, and some that are dearly missed, like McHale's. The show is up through this weekend, and there's a book available.
The artists mention in the intro of the book that almost 1/3 of the stores have closed since they photographed them. I'd be surprised if Phil's is still hanging on this time next year.

categories: Art, Business, Culture, NYC, Robot-on-the-Spot
posted by amy at 2:25 PM | #
Trackback Pings
TrackBack URL for this entry:
http://amysrobot.amyinnewyork.com/mt/mt-tb.cgi/1025
Comments
Post a comment