« Kelly Ripa doesn't care what anyone says, ass is still the new tits | Home | Eli Roth's Thanksgiving »
November 16, 2007
The coolest WGA benefit event yet +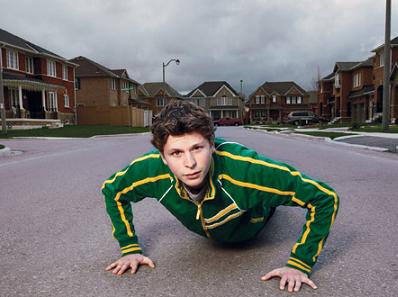 Guess who's hosting SNL tomorrow night? It's our favorite celebrity ever Michael Cera! With musical guest Yo La Tengo.
Oh, hang on. The writers are all on strike. But that doesn't matter if SNL is going to be happening live at Upright Citizens Brigade! Where $20 tickets will benefit a strike fund for the WGA!
Yeah, well, show's already very sold out.
Also sold out is what will probably be the greatest non-televised television moment of the year: an episode of "30 Rock", also live at UCB on Monday night. The UCB site says limited tickets will be available at the door, so start camping out on 26th St as soon as the SNL show is over!
Here's about as much good news as there is: people are selling their tickets to SNL at UCB for $750 on Craig's List. Fuck.
Cast members Tina Fey and Seth Meyers have been out on the picket lines.
UPDATE: Of course, SNL was awesome.
Trackback Pings
TrackBack URL for this entry:
http://amysrobot.amyinnewyork.com/mt/mt-tb.cgi/744
Comments
Post a comment