« She's everyone's Sharona | Home | Will we hate Duane Reade any less now that it's Walgreens? »
February 16, 2010
Pizzacone: an abomination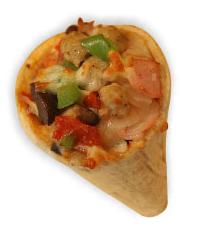 There have been some notices recently about a new restaurant about to open in midtown called K! Pizzacone, which sells cone-shaped pizza. The pizzacone has actually already arrived in the greater NY area, by way of Brazil. Over the weekend, I went to a place in Astoria called Berry Lover, which sells frozen yogurt, gelato, and something called Cone Pizza.
In case you're interested in food trends and wonder what it's like to eat pizza in cone form, let me just tell you this. The pizzacone is a horror.
I'm not going to get too graphic here, but let me give you an idea. The Berry Lover Margherita Cone Pizza involves a hand-shaped piece of dough that is molded into a cone shape via a sort of hand-operated drill press. Then the cone is filled with a lot of shredded cheese and some sauce and placed in a cone pizza oven, a rotating rotisserie kind of machine that cooks the whole thing. Then they serve it wrapped in a little cardboard sleeve, like takeout coffee.
And it's absolutely terrible. The crust was crispy, but totally uniform and bland and way too similar to an actual ice cream cone. It was filled with low-grade, flavorless mozzarella that oozed out all over everything when I bit into it, and the cheese was edged with some pink liquid that I guess was the sauce. It tasted like like a hard, non-sweet ice cream cone filled with artificial-tomato-flavored caulk. It tasted nothing like pizza, or food.
The really counter-intuitive thing is that, as inflexible as the Italians are about which specific ingredients are permitted in pizza by a government-regulated pizza authority (e.g. buffalo mozzarella) and which ingredients are not (e.g. pineapple), it was actually an Italian company that created the pizzacone ("KonoPizza").
So much for high standards and allegiance to centuries of culinary tradition. It's like finding out your grandmother's homemade cookies were Chips Ahoy.
categories: Food, NYC, Robot-on-the-Spot
posted by amy at 3:19 PM | #
Trackback Pings
TrackBack URL for this entry:
http://amysrobot.amyinnewyork.com/mt/mt-tb.cgi/1081
Comments
Post a comment