« "Lost" and eternity | Home | When famous people are gay »
March 25, 2010
Roger Ebert's new TV show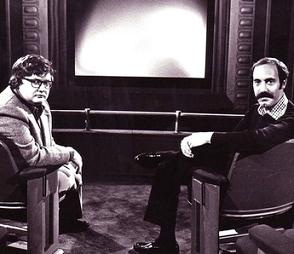 This is my favorite picture of Roger Ebert and Gene Siskel, from back in the old days. It might even be from their first show together, "Sneak Previews", which aired on PBS stations in the 70's before "At the Movies" started.
Shortly after the announcement that the current A.O. Scott/Michael Phillips-hosted "At the Movies" show was getting canceled, Roger Ebert shed some light on the new TV show and "full-tilt new media" enterprise he's got in the works, which will be called "Roger Ebert presents At the Movies".
The most exciting thing about this new show is that it sounds like the show Ebert has always wanted to do. The experience of watching movies has completely changed in the last 10 years. Everyone now has access to the kinds of little, foreign, or independent movies that only people in big cities used to see, through Netflix, Amazon's streaming rentals, on-demand, Red Box kiosks and things like that. Every so often, Siskel and Ebert would devote a significant chunk of their weekly show to a small movie that most of us would never be able to see in the theater, and would be lucky if our local video store got a copy of it.
Back in the early 90's they championed movies like Hoop Dreams and Crumb and Kieslowski's Three Colors series on nationally syndicated TV, which is pretty incredible. They probably did more to raise the profile of independent and foreign film in the US than anybody else.
So now that we all have far greater access all kinds of weird, small movies, Ebert's new show can be as far-reaching as he wants, because his audience will be so much more knowledgeable about what's out there. Here's how he describes it: "Not just the One Weekend Wonders, although you gotta have 'em, but indie films, foreign films, documentaries, restored classics, the new Herzog, the new Bahrani, the new Almodovar. What's new on Instant Streaming. What great movies should everyone see? Hey, Paramount just announced $1 million for ten $100,000 movies. Those kinds of films ... Our show will try to reach people who think before they watch a movie, and value their time, and their minds."
So, obviously, it's gonna be on cable. Maybe IFC? Ebert and his wife, Chaz, are producing it, and he says they've chosen their host. I don't think it will be any of the previous "At the Movies" hosts (though there's a decent chance Ben Mankiewicz could be in the running--he did a pretty good job.)
My top choice: Alec Baldwin. Why not? He's already hosting the New York Philharmonic's weekly radio show, hosting "The Essentials" on Saturday nights on TCM, writing for the Huffington Post, guest hosting Studio 360, and hosted the Oscars, and that's on top of "30 Rock". He can handle it. I'm only half kidding.
Ebert himself will be on the show every so often for a Great Movies segment or to report from the film festivals. It should be a fun and thoughtful show, because that's how he seems to approach everything these days. Ebert's reviews have gotten pretty generous lately, but he's still an assiduous reviewer.
Check out his review for Hot Tub Time Machine: three stars, which surprises even him, but he explains why it's better than you would think. And here's what he says about Rob Corddry (probably the biggest reason to see it): "Corddry here achieves a level of comic confidence that seems almost uncanny; Cusack, as co-producer, and Steve Pink, the director (who wrote Cusack's High Fidelity and Grosse Point Blank), must have intuited this gift and been willing to give him free rein."
I'm glad Ebert's got the money and the clout to do the kind of show he wants. It should be great.
Trackback Pings
TrackBack URL for this entry:
http://amysrobot.amyinnewyork.com/mt/mt-tb.cgi/1095
Comments
Post a comment