« Baby names: when governments intervene | Home | Grindhouse: stay in school, kids! »
April 5, 2007
2nd Avenue subway fantasy plan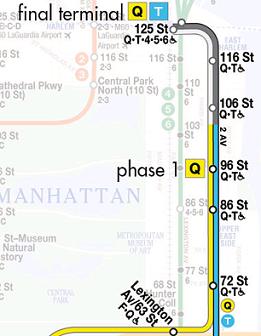 Now that the MTA is really, truly going to build the 2nd Avenue subway extension, planners are starting to put together a list of totally realistic design elements, including:
roomy, brightly lit stations
wide platforms
air-conditioned stations in the summer
sliding mechanical doors at the edge of platforms that open up with the train's doors, like on the AirTrain at JFK
computerized train operation so that these doors will all line up
and, hey, while we're at it, how about free snowcones and pony rides, too
Sounds pretty nice! But how likely is it that any of these features will be included in the 2nd Avenue line that not everyone truly believes, deep down, is ever going to happen at all? The current subway system of course doesn't use computerized operation, so the whole system would in theory have to be overhauled. The Times says that the MTA has been thinking about developing a computerized system for the entire subway, but that it's "still a long-term goal."
Lawrence G. Reuter, president of NYC Transit until he resigned in February, also had his doubts about the mechanical doors/air-conditioned platforms/on-board Wii gaming stations, too. "It's only going to apply in a few stations. What good is it going to do if you can't adapt it to the rest of the system? I didn't see any benefit, plus it's going to cost extra money to maintain them."
Trackback Pings
TrackBack URL for this entry:
http://amysrobot.amyinnewyork.com/mt/mt-tb.cgi/639
Comments
Post a comment