« Public money double standard | Home | Hidden tracks »
March 15, 2010
Don't wear your Granite State gear to Gatwick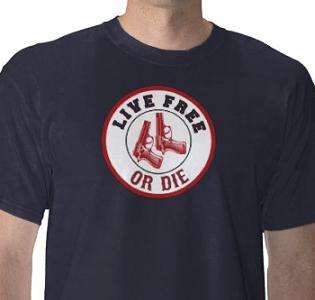 London's Gatwick airport recently apologized to a traveler who had been stopped while going through security and asked to turn his t-shirt inside out before proceeding through. The security worker said some airlines might find the shirt "a bit threatening" because of its small printed slogan: "Freedom or die".
While the grammar of that statement is a little shaky (wouldn't it be "freedom or death"?) a t-shirt slogan isn't exactly the greatest security risk airports face. The man in the shirt, Lloyd Berks, said of his outfit choice, "It is turquoise and white, it is just a design t-shirt, it is not gothic or in your face."
Nothing like some of the more overtly gothic t-shirts one can buy in New Hampshire-themed retailers, that proudly display the popular though sort of politically flamboyant state motto, "Live Free or Die".
The Red Sox-inspired shirt in the photo above, sold as a "Dead Sox shirt" online, is probably whimsical and hilarious in New Hampshire. British airport security might not get the baseball/guns/libertarianism visual joke, though--they'll just see a gun freak in a terrorist shirt.

categories: Culture, War and Security
posted by amy at 2:28 PM | #
Trackback Pings
TrackBack URL for this entry:
http://amysrobot.amyinnewyork.com/mt/mt-tb.cgi/1090
Comments
Post a comment