« The new Girl Talk album | Home | Surely Leslie Nielsen was one of the great ones »
November 23, 2010
Mark Wahlberg is still cool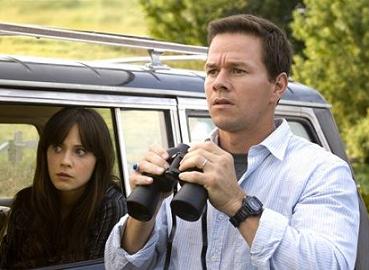 Yeah, Mark Wahlberg has been in some cruddy movies. His 90's heyday (Boogie Nights, Three Kings) is long gone, and it's been a hard decline from Rock Star to We Own the Night.
In fact, I'm not sure he's been in a good movie since The Departed in 2006 (though I still haven't seen The Other Guys, which was probably pretty funny.)
Then there was M. Night Shyamalan's The Happening from 2008, which was about killer trees. Manohla Dargis says Wahlberg has an "earnest, committed presence" in it, but it's been frequently cited as the worst movie of the year, or maybe ever, an opinion that has its own Facebook page.
As part of the publicity for his new movie, The Fighter, Mark Wahlberg did a press conference where he brought up The Happening seemingly without provocation. Here's what he said, in reference to his first meeting with co-star Amy Adams:
We had actually had the luxury of having lunch before to talk about another movie and it was a bad movie that I did. She dodged the bullet. And then I was still able to ... I don't want to tell you what movie ... alright, The Happening. Fuck it. It is what it is. Fucking trees, man. The plants. Fuck it.
Which is I think pretty much what everyone who watched that movie said as the credits rolled.
This new movie, The Fighter, looks a little overwrought and very, very Oscars-y, but most of the actors should be good (Wahlberg, Christian Bale, Melissa Leo.) It's by David O. Russell, who's built a reputation as being an unstable, abusive horror of a director. One of Mark Wahlberg's first comedic roles was in Russell's last movie, I Heart Huckabees, and he was by far the best thing about it. Based on that video of Russell and Lily Tomlin screaming at each other, and his fist fight with George Clooney on the Three Kings set, I'm surprised any actor would agree to work with him three times, but I guess Wahlberg wants to take whatever good parts he can get these days.
Fucking trees, man.
categories: Celebrities, Movies
posted by amy at 4:33 PM | #
Trackback Pings
TrackBack URL for this entry:
http://amysrobot.amyinnewyork.com/mt/mt-tb.cgi/1162
Comments
Post a comment