« Mark Ruffalo, our fracking hero | Home | How have the Democrats caved today? »
December 6, 2010
Four Lions: suicide bomber slapstick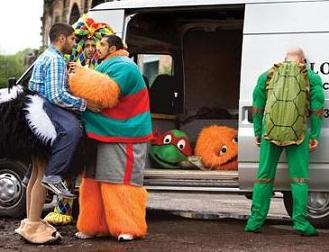 You know this new movie, Four Lions, the terrorism satire? Just by being a terrorism satire, it's shocking. It's always going to be too soon for some people to handle this movie, and there are a couple of moments that made even a hardened cynic like me gasp. It's the blackest movie I've seen in years, but it's also a light and occasionally sweet comedy about some very humanized jihadists in the UK.
Watching this movie in the theater is an especially strange experience because of all the weird times that the audience laughs. Sure, everybody laughed at the funny costumes and the scene of the terrorist rapping on one of his video messages (above) but what about during the suicide bombing sequences, which got more than one weirdly shrill giggle from the audience? Are suicide bombs funny? Not usually, but apparently sometimes, yes, they are.
Let's remember that the UK suffered a more recent lethal terrorist attack than we did, so it's arguably too soon for them to be laughing about this stuff, too. The director, Chris Morris, is probably best known in the US as the guy who plays the over-confident boss man on the show "The IT Crowd", which has been on IFC lately (video). He also anchored an early TV news spoof called "The Day Today", which was on in the UK in 1994 and also featured Steve Coogan and Armando Iannucci, who went on to do In the Loop.
Four Lions and In the Loop would be good to watch together: they're both about the War on Terror and the useless morons on either side who are fighting it. The same two guys, Jesse Armstrong and Simon Blackwell, wrote both movies. In the Loop has a purely cynical view of the incompetent and selfish idiots who started the war in Iraq, but Four Lions is a little more complicated. Its characters are nicer and goofier than the In the Loop guys, so they're less odious on the surface. But their goals are much worse. As lovably inept as they are, they still want to kill people. As Chris Morris says, "Terrorism is about ideology, but it's also about doofuses."
A.O. Scott and Roger Ebert both liked the movie a lot, which isn't surprising, but conservative talk radio star Michael Medved LOVES it. Medved interviewed Morris on his show a few weeks ago. Maybe we'd be better off if we all start thinking of terrorists, in Morris's words, as scary but also ridiculous.
Here's the trailer.
categories: Movies, Politics, TV, War and Security
posted by amy at 2:23 PM | #
Trackback Pings
TrackBack URL for this entry:
http://amysrobot.amyinnewyork.com/mt/mt-tb.cgi/1165
Comments
Post a comment