« Judy Clarke: defending our crackpot assassins | Home | Why Vanity Fair is the best magazine, even with covers like this »
January 12, 2011
First look at Fincher's The Girl With the Dragon Tattoo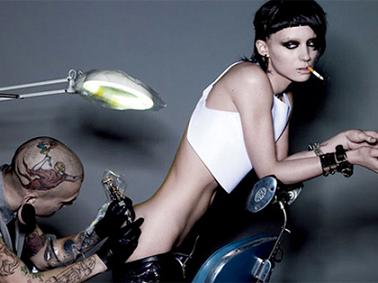 Now that everyone's seen Rooney Mara in The Social Network, we thought we had an idea of how good she'd be in David Fincher's remake/adaptation of Swedish novel and movie The Girl With the Dragon Tattoo. Today we're seeing some photos of her in character as spiky, blood-thirsty vigilante avenger Lisbeth Salander, and they look pretty good.
Specifically, Rooney Mara looks great. Very snarly and severe in the cover shot, and I love her "fuck the world" sneer in the cigarette/ink shot. The dragon tattoo is supposed to be on her character's back, I'm pretty sure, so I maybe she's getting a Snoopy on her butt.
Mara didn't even have pierced ears before the shoot started, so I hope she's embracing the new look. She looks like she'll be at least as much of a patriarchy-slashing badass as the Swedish film version of Lisbeth. Here's the W article about Mara and Fincher and the shoot.
I wonder if Fincher's version is going to be as filled with rage as the book would suggest: remember, the original Swedish title is Men Who Hate Women, and the author Stieg Larsson was sort of consumed with horror about sexual violence, after witnessing an episode as a teenager.
The movie's being shot in Sweden, which sounds like a good idea, and the character names haven't been anglicized. Trent Reznor says the soundtrack will have lots of strings.

Trackback Pings
TrackBack URL for this entry:
http://amysrobot.amyinnewyork.com/mt/mt-tb.cgi/1178
Comments
Post a comment