« In Memoriam: Fametracker | Home | Good news! Your book got reviewed in the Wall Street Journal »
May 17, 2007
NYT Styles section: if you're a woman, your life sucks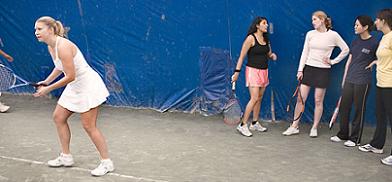 Here are some articles featured in today's woman-hating Styles section in the New York Times:
"Mr. Right, It Turns Out, Does Not Take Classes"
This piece examines single women in New York who want to find a man, but are unable to, because no matter how many interests they develop or classes they take or in any other way try to "get out there", there aren't any men to meet. "Where are they?" asked Wendy Hill, who has taken architecture classes at the Metropolitan Museum of Art and has joined singles groups and getaways. "Where do they go?"
"After Baby, Boss Comes Calling"
In this article, professional, upper-middle class women who have quit their jobs when they have children struggle to find meaningful work when they decide to start working again. This is by Lisa Belkin, who wrote "The Opt-Out Revolution" a few years ago as part of the Times' trend in covering the plight of wealthy women who can actually decide whether they feel like having a job or not. Anyway, aside from the glaring class issues that articles like this persist in ignoring, the piece points out that more employers are making modest allowances for their workers to have flexible schedules or work part-time, which is good for working mothers and everybody else, too.
The problem I have with this article is the Note to Readers: "Life's Work, a column about workplace trends and office culture, which has run most recently in Sunday Business, today moves to Thursday Styles." Yes, workplace issues, as they relate to women, are better suited to the goddamn Styles section.
"Secret Ingredient: Their Husbands"
Here we find an article about women who actually are successful entrepreneurs (written about, again, in the Styles section) but the only reason they seem to be getting any ink about their businesses is that their husbands are celebrities. We learn about Mrs. Dustin Hoffman, Mrs. Ron Wood, Mrs. Patrick Dempsey, and Mrs. Prince, and their lines of beauty products and decorative candles that, with the help of inexhaustible personal capital investment and built-in publicity, have been remarkably successful. "The husband's participation in the promotion is not expected, but if it happens, it's very nice," says a SVP at Bergdorf Goodman, which stocks many of these wives' products. "There's no denying the public's appetite for association with celebrity."
So let's see what today's Styles section tells women about the reality of their lives:
1) if you're single in NYC, you'll sign up for Olympic-distance Triathlon training classes out of your desperation to get a man, but forget it, because you'll never get one;
2) if you're lucky enough to get married and you stop working to have kids, it will be really hard for you to find good work again, and while you're trying to get a job, people will take the challenges you face about as seriously as they take everything else that gets written up in the Styles section;
3) if you do actually establish a successful business for yourself, it's probably because you're married to someone who is rich and famous, and some significant portion of your success will be attributable to his name recognition.
Yeah! You've come a long way, baby!
categories: Business, Culture, Gender, Media
posted by amy at 1:11 PM | #
Trackback Pings
TrackBack URL for this entry:
http://amysrobot.amyinnewyork.com/mt/mt-tb.cgi/658
Comments
Post a comment