« Top 5 horror movies | Home | Vote with Matt Damon »
November 1, 2010
Hey, look, it's Sars!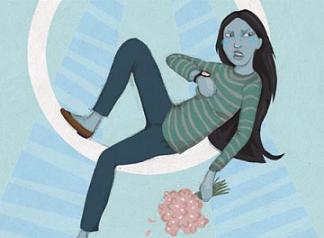 I was reading the current issue of Time Out, which has a new weekly feature called "Tough Love" which offers smart, non-sugar-coated dating advice. And hey! It's by our old almost-friend Sars, aka Sarah D. Bunting!
If you've been reading the internet for a while, you may remember a time before Gawker, before Jezebel, and before every single style and culture magazine started doing clever commentary of TV episodes. Today, if you want some analysis of the latest episode of "Mad Men" or "Glee", you can read the Times' TV blog, NY Mag, Entertainment Weekly, even the Wall Street Journal culture blog, and many other sites that do TV recaps.
But there was a time when Television Without Pity was pretty much the only game in town, and it was hugely influential. I was a big fan back when it was called Mighty Big TV, and Sars' weekly "Dawson's Creek" recaps regularly forced me to clap my hands over my mouth and shake silently at my desk so that no one in the office would know I was reading something deeply hilarious and not remotely work-related.
Though they couldn't have known the havoc they would wreak on a generation of internet commenters, TWoP brought the word "snark" into common usage and taught us all how to be ironic and sophisticated when writing about pop culture. Though, judging from all those other recap writers, not necessarily how to be funny.
Anyway, TWoP was sold to Bravo in 2007, and Sars and co-founder Wing Chun left the year after. Since the sale to Bravo I have read the current site's recaps exactly zero times. Their related pop culture site Fametracker has been frozen in time since 2007, and, sadly, doesn't look like it will ever return. Which is too bad--Fametracker was one of my favorite media/culture/celebrity sites ever.
Sarah D. Bunting's personal site Tomato Nation looks better than ever, with a lot of stuff about candy, baseball, and, of course, what she's watching on TV. She's also done an advice column for many years, so it's pretty cool that a magazine finally noticed and offered her a regular gig.
So far, Tough Love is good: funny, sharp, and sympathetic, while not letting anyone off the hook. In her very first answer, she advises a young woman fed up with waiting for her boyfriend to propose to "grab a Ring Pop and propose to him. It's 2010." Thank you, Sars! This should be the default advice given to anyone who has ever made this complaint. Hope she's as influential with this kind of stuff.
Trackback Pings
TrackBack URL for this entry:
http://amysrobot.amyinnewyork.com/mt/mt-tb.cgi/1154
Comments
Post a comment