« Casting the Carrie remake | Home | The Tree of Life, the Universe, and Everything »
May 25, 2011
Woody's leading men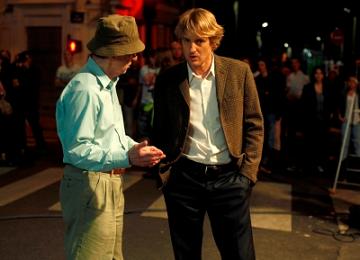 Over the years, we've seen lots of actors play the classic Woody role in Woody Allen's annual, whether you like it or not, movie release. This character is a man (usually) with neurotic tics and an overpowering fear of death who wears a lot of tweed jackets, loves high culture but loathes pretentiousness, and inadvertently falls in love with a beguiling woman who he (usually) can't have.
My favorite actor to play this role is still Woody himself, who plays it with a lightness and self-deprecation that makes the hapless character sort of charmingly, exasperatingly likeable, in spite of everything.
I wasn't expecting to think much of Owen Wilson, who stands in for Woody in his new movie Midnight in Paris, but as it turns out, Owen Wilson is absolutely perfect. He's sweetly bewildered at the English-major fantasy that forms the central plot. He's romantic, funny, and passionate, yet holds onto his standard chilled-out goofball aura that makes it seem like he ripped a gigantic bong hit right before the cameras turned on.
Somehow, it works. Owen Wilson's performance reminds me of the last time the Woody surrogate was cast so perfectly: in Melinda and Melinda, where Will Ferrell plays the Woody role. Both actors play it for laughs, but without any winking at the camera or an embarrassing attempt at a full-on Woody Allen impersonation.
Some less successful actors in the role are the people that you'd consider respected dramatic actors, like Anthony Hopkins and Josh Brolin in last year's You Will Meet a Tall Dark Stranger, Kenneth Branagh in Celebrity, and whatever Woody was trying to do with Scarlett Johansson in Scoop. Rebecca Hall in Vicky Cristina Barcelona is probably the only time he's given the Woody role to a woman and made it work.
Maybe he should stick with casting actors known for broad physical comedy to play the Woody role. Those actors can tone down their usual style and make the character funny in a light, believable way, and don't fall into the the neurotic impersonation trap that serious dramatic actors often do when they take on this style of comedy. Woody himself will appear in his next movie, which also stars Jesse Eisenberg, who could be either the greatest Woody role actor in history, or a stammering caricature in hyper-Jewish overdrive.
It also stars Alec Baldwin. Because someone's got to get all the best lines.
I loved Midnight in Paris, and it's good to be able to say that about a Woody Allen movie again. It's smart and literate, but not snotty. It makes jokes about the storyline of Buñuel's The Exterminating Angel. And it features the awesome Alison Pill, who I want to see in a whole lot more movies. Glad to have you back, Woody.

categories: Celebrities, Movies
posted by amy at 4:05 PM | #
Trackback Pings
TrackBack URL for this entry:
http://amysrobot.amyinnewyork.com/mt/mt-tb.cgi/1218
Comments
Post a comment