« Death of a Salesman. (Spoiler alert! He dies.) | Home | Cronenberg's Cosmopolis »
March 23, 2012
Bad Love: Back with a vengeance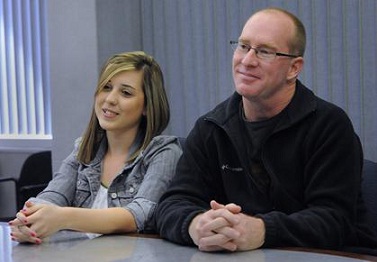 A few years back, we started a regular feature called Bad Love to chronicle the endless cases of adults who start inadvisable romantic relationships with teens. The hallmarks of Bad Love include poor judgment, narcissism, lust, a kid who doesn't know any better, and an adult who really should. Common scenarios are teacher/student, volleyball coach/team captain, guidance counselor/troubled youth, and a few memorable instances of "cool mom"/son's friends. Bad Love had its own website for awhile, which was fun while it lasted, but deep down we knew we shouldn't be doing this.
Until today! I came across an article from a few weeks ago (tx ADM!) about business and computer teacher James Hooker, who left his wife and children for his 18 year-old student, Jordan Powers. Powers' mom found out about their relationship when she stumbled across 8,000 texts they'd written to each other over the past few months, though the couple claims they didn't have sex until she turned 18 in September.
Now the lovebirds have moved in together. James Hooker was banned from the school (where one of his kids is a student), and Jordan has decided to stop going to school, probably because all the other kids would tease her out of burning jealousy that she's dating her bald 41 year-old married computer teacher.
But what makes this such a classic tale of Bad Love is the textbook delusion case of James Hooker, husband, father, and erstwhile mentor for young minds. In an interview about his decision to abandon his family for a teenage student, he said, "In making our choice, we've hurt a lot of people. We keep asking ourselves, 'Do we make everyone else happy or do we follow our hearts?' I just kind of knew that she's the one."
She's the one! Yes she is. They're gonna grow old together.
Jordan's mom is understandably enraged, and has been waging an anti-Hooker campaign on Facebook. She says, "She looked up to him. [He was in the] position of an educator, [and you] don't seduce your student. Period. She's still in high school. She still lives at home. She has a curfew. That's not OK."
Don't worry, lady. Just wait a few more months until she realizes that living with her weird daddy-surrogate teacher Mr. Hooker is not cool or fun and she'd rather be at college doing Goldschläger shots like everyone else.
Trackback Pings
TrackBack URL for this entry:
http://amysrobot.amyinnewyork.com/mt/mt-tb.cgi/1289
Comments
Post a comment