« Greg's Music Forum 2005: Aggregation and analysis of 75 "Best Albums of 2005" lists from around the world | Home | Expect More. Pay Less. Fight Crime.™ »
January 26, 2006
Tristram Shandy: postmodern before there was even modern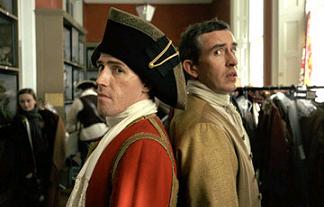 Michael Winterbottom's new movie Tristram Shandy: A Cock and Bull Story might be the first interesting movie of 2006. It's an adaptation of Laurence Sterne's novel The Life and Opinions of Tristram Shandy, Gentleman, which was written in the mid-18th century but reads like an absurdist 20th century experiment in postmodernism. The book is introduced as an autobiography, but has no narrative structure at all, never gets very far beyond Shandy's conception and birth, and is full of stories-within-stories, anecdotes that go nowhere, and endless ruminations about how Shandy can't be sure about anything about himself or the world. If James Joyce had tried to write this book, it would probably be much more popular than Tristram Shandy is (it's allegedly rarely read) but it wouldn't be half as funny. Even so, 700 pages of digressions and drawings of sqiggly lines are hard to get through.
Anyway, Michael Winterbottom is great at making self-referential movies that tell the exaggerated stories of larger-than-life figures--2002's 24 Hour Party People was a sort of biopic of Ian Curtis, Shaun Ryder, and Tony Wilson, but was open about much of it being fictional. In that movie, Steve Coogan hilariously played Tony Wilson, and Coogan is back as Tristram Shandy in this new movie.
Michael Winterbottom is probably the best person around to take on a project like this. In an NPR interview that aired earlier today, he was asked what obligation he felt to be faithful to the book, and answered "None whatsoever."
From the sound of it, the movie Tristram Shandy makes use of all the diversions and self-consciousness that make the book so weird and hard to adapt. Actors drop out of character; there are a lot of references to the making of the movie and the DVD release; at one point Steve Coogan is interviewed by what I think is the real Tony Wilson.
The movie opens on Friday in New York; I don't know when the hell it opens anywhere else.
Note: Steve Coogan and Alfred Molina did a great short movie with Jim Jarmusch that was included in 2004's Coffee and Cigarettes, and it was one of the best comedy moments of the past few years. Steve Coogan is the master of being self-important and simultaneously making fun of his own self-importance.
Trackback Pings
TrackBack URL for this entry:
http://amysrobot.amyinnewyork.com/mt/mt-tb.cgi/434
Listed below are links to weblogs that reference Tristram Shandy: postmodern before there was even modern:
Comments
Post a comment