« Top Movies of 2007 | Home | Illegal surveillance suddenly not quite so scary anymore »
January 9, 2008
Patton Oswalt eats a KFC Famous Bowl™
Someone over at the A.V. Club had the brilliant idea of getting Patton Oswalt to actually eat a KFC Famous Bowl™, the fast food metaphor for a world that has totally given up: "America has spoken - pile my food in a fucking bowl."
This is akin to getting TLC to go on a date with a scrub, or having Amy Winehouse spend a week in rehab.
So he wrote about it, and it's funny.
First, some photographic documentation. KFC's assertion as to what its Famous Bowl™ looks like: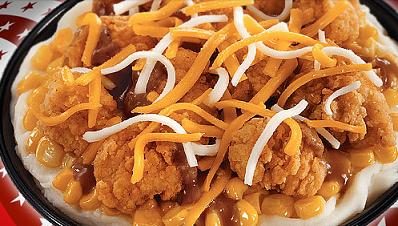 Patton Oswalt's actual Famous Bowl™: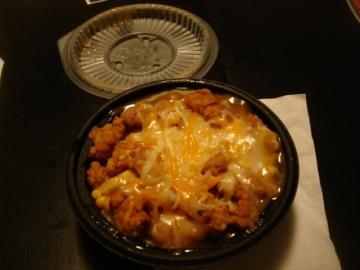 And a few descriptions of his experience eating it:
The gravy, which I remembered as being tangy and delicious in my youth, tasted like the idea of blandness, but burned and then salted to cover the horrid taste. The mashed potatoes defiantly stood their ground against the gravy, as if they'd read The Artist's Way and said, "I'm going to be boring and forgetful in my own potato-y way!" The corn tasted like it had been dunked in fake-corn-flavored ointment, and the popcorn chicken, breaded to the point of parody, was like chewing a cotton sleeve that someone had used to wipe chicken grease off their chin.
If you haven't ever seen his KFC Famous Bowl™ bit, you can watch it here: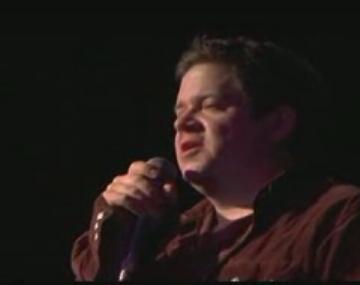 categories: Business, Celebrities, Media
posted by amy at 9:35 AM | #
Trackback Pings
TrackBack URL for this entry:
http://amysrobot.amyinnewyork.com/mt/mt-tb.cgi/763
Comments
Post a comment