« Pope paraphernalia | Home | Pennsylvania gets ever bluer »
April 18, 2008
Keshia, you're a big girl now
Little Rudy Huxtable = all grown up.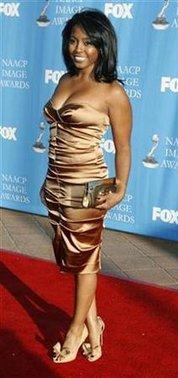 That cute elementary-schooler in pigtails that was America's kid sister in the '80's, Keshia Knight Pulliam, recently turned 29 years old. For people my age, Keshia is like a one-woman version of the Olsen twins that we watched grow up on tv. The difference is that Keshia's a lot better looking, and successfully graduated from college.
Her post-"Cosby Show" career hasn't really taken off (though she was in Beauty Shop with Queen Latifah), but now she's about to enter an important rite of passage for anyone transitioning from child star to adult actress: starring in Tyler Perry's latest family movie as a hooker named Candy.
Who's America's pigtailed cutiepie now? That'll show 'em!
I just learned she also appeared in a 2003 Chingy video with a brief shot of her in a bra [video]. OK girl, we get it, you can put your shirt back on.

categories: Celebrities, Movies, TV
posted by amy at 12:34 PM | #
Trackback Pings
TrackBack URL for this entry:
http://amysrobot.amyinnewyork.com/mt/mt-tb.cgi/807
Comments
Post a comment