« NY Times on purity balls | Home | Anti Smoking Campaigns work, maybe »
May 20, 2008
Almost-mythological R. Kelly child-porn trial is actually happening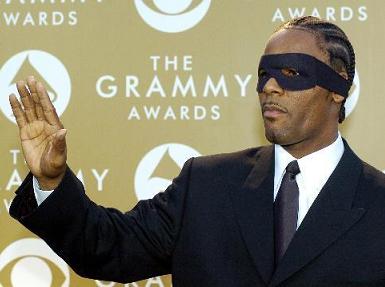 Over the past six years, you may have heard about successful and deranged R&B singer R. Kelly and how he was charged with having sex with (and maybe also peeing on) a teenage girl/girls, and taping himself doing so. Finally, the judge, the lawyers, and Kelly himself all showed up at the same time, a jury was selected, and opening statements are happening today.
Even though the judge in R. Kelly's case has forbidden access to sealed documents and closed hearings, there are so many weird details about this case, including all the other instances in which R. Kelly has had sex with underage girls, that the media is still finding plenty to talk about.
The Chicago Sun-Times published a long story in 2000 about R. Kelly having sex with teenage girls, and two years later, the incriminating videotape was sent anonymously to one of the authors of that story. The paper's website has has an incredibly thorough special section dedicated to the case. Recent headlines include "R. Kelly angrily hurls basketball at reporter at rec center" and "Potential juror: R. Kelly's 'not very smart'".
They also have a blog about the case, with a recent post suggesting that Kelly's brother might testify against him with evidence that R. Kelly tried to bribe him to say it was him in the infamous video. In an earlier interview, the paper quoted Carey "Killa" Kelly as saying, "And I say to America, the criminal justice system: If you let that n***** off, he's going to do it again, trust me. I bet my life on it."
The Sun-Times has owned this story from the beginning, but the NY Times has a good background article today, too. They interview some media and culture scholars about the case, with a few interesting conclusions. One of them thinks that since 2002, we've all gotten so used to sexed-up teenagers that this dirty video case seems like less of a big deal than it might have at the time.
The Times quotes a professor of black culture at Duke, Mark Neal, who notes that since the indictment, R. Kelly has continued to write songs about having threesomes and called himself the "Pied Piper of R&B", implying that he seduces children with his music. "Either he's absolutely demonic or stupid or crazy."
Yep, probably. Or, as R. Kelly once attempted to explain the messes he's gotten himself into: "In life, you have people that love to party. That's me. People that love God. That's me. People that love sex. That's me. People that love people. That's me. And people that make mistakes. That's me also."
Mm-hmm. Well, he also said at the time of his indictment that "Osama bin Laden is the only one who knows exactly what I'm going through."
I think I'm going to stick with demonic, stupid, or crazy.

categories: Celebrities, Crime, Media, Music, Sex
posted by amy at 3:14 PM | #
Trackback Pings
TrackBack URL for this entry:
http://amysrobot.amyinnewyork.com/mt/mt-tb.cgi/820
Comments
Post a comment