« Genetically-engineered movies | Home | Mars and Venus make a movie »
April 14, 2010
Exit Through the Gift Shop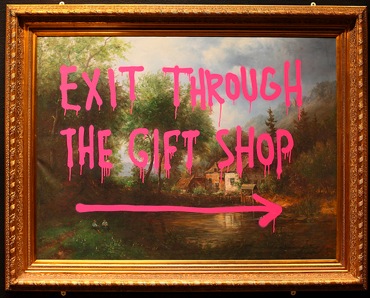 Someone finally made a good documentary about street art, except it's only partially about Banksy and other actual street artists, and mostly about a crazy, obsessive French fan who followed them around with a camera, Thierry Guetta.
The best thing about the movie is Banksy himself and his totally self-effacing sense of humor. It's not so surprising that he's a funny guy: most of his art is funny in a sly, dark way. But the man is also a master of comic timing, telling the strange story of how he befriended Thierry Guetta, only much later realizing how mental he was, like he's been crafting a whole other career as a performer. We never see his face or hear his voice without distortion, but you can still tell he's not only a great artist but a hilarious storyteller, too.
The movie was directed by Banksy, but almost all the footage was filmed by Thierry Guetta though his obsessive recording of pretty much every moment of his waking life. Guetta started hanging out with LA street artists sort of by accident, and claimed he was making a documentary even though he had no intention of cutting all his miles of tape into anything like a movie. As Banksy eventually realized, he wasn't really a filmmaker, but "just someone with mental problems who happened to have a camera." It's not a very flattering story for Banksy, but he's honest in showing that his relationship with Guetta was based on Guetta's total adoration of him and willingness to do whatever he asked. Even cool street artists are susceptible to ego-stroking.
After Guetta's monumentally successful debut as an artist himself (as Mr. Brainwash), the street artists he had followed around didn't want anything to do with him. Guetta copied their styles and techniques, and threw together hundreds of meaningless pieces that blatantly rip off every major pop artist of the last 50 years. It's easy to dismiss all the people who got suckered into buying his bad art as trend-seeking morons, but I admire that Banksy also included footage of his own media circus of an LA art exhibit, with celebrity buyers and a stunt involving a baby elephant overshadowing the actual art. As the title suggests, street art has become something you buy in a museum gift shop. Banksy's art is in a different category than Mr. Brainwash's, but the hype that surrounds both of them is equally silly.
One of the best parts of the movie is a beautiful and inspiring opening montage of street and graffiti artists at work on brick walls, trains, tunnels, and sidewalks all over the world, set to Richard Hawley's "Tonight the Streets Are Ours". You can see most of it in this extended trailer. In spite of all the money and attention that a pretend artist like Mr. Brainwash might get, it's so awesome to watch the real ones out there doing it and risking getting hurt or busted by the cops because they love it.

Trackback Pings
TrackBack URL for this entry:
http://amysrobot.amyinnewyork.com/mt/mt-tb.cgi/1102
Comments
Post a comment