« Clair Huxtable vs. Billy Crudup | Home | Melancholia trailer »
April 11, 2011
Blank City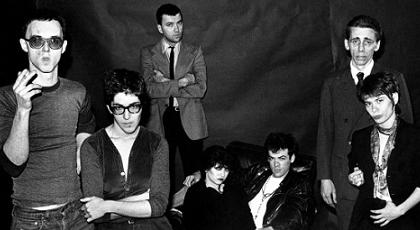 There's a great new documentary playing at the IFC Center, Blank City, about the hyper-indie DIY filmmakers and musicians working in the East Village in the late '70's and early '80's. It's the "No Wave" movement: a bunch of people with no money, no training, barely any equipment, cheap rent, cheap drugs, and a lot of friends in bands with a lot of time on their hands. Here's the movie's website.
Out of this movement, we got Jim Jarmusch, Sonic Youth, Jean-Michel Basquiat, Lydia Lunch, Charlie Ahearn (who did Wild Style about Fab 5 Freddy and the early hip-hop scene,) Susan Seidelman (who went on to do Desperately Seeking Susan,) and loads of other renegade filmmakers. My favorite title is They Eat Scum, by the depraved Nick Zedd.
It's really inspiring and fun to watch this breathless moment when so many artists were creating such wild and new stuff, and made me wish I could drop in on that time and place. Kind of like how I wanted to be in early-'70's LA after reading the debaucherous Wikipedia page for Rodney Bingenheimer's English Disco. A.O. Scott wrote an especially great review about the movie and the scene: "Technique, polish, professionalism -- all of these were suspect. What emerged in their absence, under various names, were films that were at once rough and sophisticated, cynical and passionate, jaded and hysterical. Kind of like New York itself."
A good companion piece to this movie is a collection of photos by Brooke Smith, better known as Catherine Martin from The Silence of the Lambs, documenting the hardcore scene in New York in the early '80's. It's wistfully cute seeing all those baby-faced kids in their torn Agnostic Front t-shirts. (tx, ADM!)
A few related documentaries: last year there was one about Basquiat, The Radiant Child, and a few years ago, one about composer and musician Arthur Russell, Wild Combination.
Blank City opens in other cities in May and June.
categories: Culture, Movies, Music, NYC
posted by amy at 11:28 AM | #
Trackback Pings
TrackBack URL for this entry:
http://amysrobot.amyinnewyork.com/mt/mt-tb.cgi/1206
Comments
Post a comment