« Jani Lane and Cherry Pie | Home | "The Hour" on BBC America »
August 15, 2011
Why I don't go to the Bryant Park film series anymore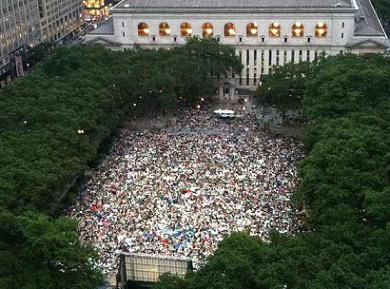 Back in the summer of 2001, I used to go to the Monday night Bryant Park film series every single week. I'd go by myself most weeks, rushing home from work to wolf down a quick dinner and run over to the park. Even though a lot of other people had arrived much, much earlier to stake out their spots (there were a lot of unemployed people in 2001) as long as I got there by about 6:20, I could get a decent, smallish space for myself, and relax for a while before the movie started. At that time, it was one of the few good free outdoor film series, and I saw some really great classic movies: Viva Las Vegas, The Wild One, You Can't Take it With You, The Philadelphia Story, Stalag 17.
As tough as it was in 2001 to snag a good spot if you had an office job, it got worse every year. More people started showing up each week, everyone started having cell phones and talking on them during the movie, and, like everyone who's lived in a city for a long time and found themselves inevitably sliding toward the crinkly end of the demographic spectrum, I got more and more irritated at all the 22 year-olds who loudly dominated on Monday nights in the park. I went less and less often, and now it's been a few years since I even thought about going.
Which I've just learned is a good thing. A recent Times article about this summer's series begins with a regular Bryant Park attendee who shows up each week at 5:00 PM with an entire suitcase that allegedly contains two dozen sheets, which he uses to countermand an absurdly gigantic swath of real estate for himself and his friends. "We make sure all of the sheets overlap so that no one can seize a patch of grass," he says.
Sure, he gets there early and has to wait in the park for hours before the movie starts, but this kind of land grab at a free public event sounds suspiciously like the behavior of a greedy asshole to me. Or, OK, I should give him the benefit of the doubt. Maybe he and his many friends just really love classic movies under the stars.
Then at the end of the article, the writer notes that not everyone at the park appears to be there to watch the movie: "Some checked their phones nonstop. Others fell asleep. A few ducked out early." Then there's a quote from the Bryant Park Conquistador himself: " 'It's not about the movie. It's about having a picnic in the park.' "
What?! Dude. If it's really about having a picnic in the park, couldn't you maybe pick any other park in New York City for your picnic? Or come to Bryant Park for your ridiculously expansive picnic on a Wednesday night? It's because of people like this guy that I'll be missing Dirty Harry next week.
Uh oh. I think I sounded like Glenn Beck for a second, there.

categories: Culture, Movies, NYC
posted by amy at 4:27 PM | #
Trackback Pings
TrackBack URL for this entry:
http://amysrobot.amyinnewyork.com/mt/mt-tb.cgi/1235
Comments
Post a comment