« Haywire! (Which deserves an exclamation point) | Home | When Abraham Lincoln Comes Around »
January 31, 2012
Casting The Hunger Games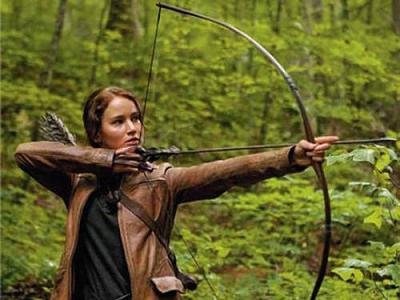 The movie adaptation of The Hunger Games is coming out in a couple of months, and since I just recently finished reading the book, I've joined the swarms of 14 year-old girls who are braiding back their hair and perfecting their rabbit-skinning skills in anxious anticipation. I'm just starting to understand how important these books have become to young fans of dystopian fiction, so I can imagine how big a deal it was when the role of Katniss Everdeen was cast.
The first time I heard about the books was when Jennifer Lawrence was cast back in March. After reading the book, I feel like I can work backwards and envision director Gary Ross looking around for young actresses that could bring a combination of toughness and teenage vulnerability to the role.
Cue Winter's Bone. Lawrence's character in that movie, Ree, is so similar to Katniss I almost feel like Debra Granik should get some sort of retroactive casting agent fee. After all, Granik is a small independent filmmaker who spends years raising money between movies. She cast Jennifer Lawrence in a difficult role where she lives in a poor, rural, dangerous environment, she's lost her father, her mother is distant and useless, she's responsible for the care and feeding of her younger siblings, and knows how to shoot and skin squirrels to make really gross-looking stew. She can get the crap beaten out of her and keep on going. She's a gutsy-yet-terrified survivor in pretty much exactly the same way Katniss is. Gary Ross says putting her in The Hunger Games was "the easiest casting decision I ever made in my life."
(By the way, Gary Ross may not be the most exciting director (Seabiscuit) but he wrote and directed Pleasantville, which was OK, and he wrote Big, one of the better 80's hits and, I would argue, the best work Tom Hanks has ever done.)
I think Lawrence is perfect, but there was some outrage when the casting decision was announced, partially because of Katniss's indeterminate race in the book. The character has straight black hair and "olive skin", and many readers assumed she was probably racially mixed. But the casting call requested only white actresses, and the selection of blonde, blue-eyed Jennifer Lawrence was regarded as white-washing by some readers eager to see a non-white ass-kicking heroine. In stills from the movie, she's dyed her hair brown, but she's definitely a big ol' white girl.
The male leads also show how their characters were translated for the movie: Gale is played by Liam "Thor's little brother" Hemsworth, and he's hot and hunky. Peeta is played by the kid who played Laser in The Kids Are Alright. I worry that they'll make the character too sensitive and wimpy and lovelorn--the unrequited teenage romance isn't the greatest part of the book, in my opinion. But I guess protracted love triangles are the name of the game for young adult fantasy series, so I'll just have to cover my eyes for the mushy stuff, i.e. any time Katniss has to suspend her survivalist awesomeness to pretend to like Peeta.
Here's the trailer. I'm very excited to see Woody Harrelson as the hero-turned-drunk, staggering around boozily and slurring "sweetheart" to the girls.
Here's the cover of this year's Hollywood issue of Vanity Fair, with a re-blonded Jennifer Lawrence front and center.
categories: Books, Celebrities, Movies
posted by amy at 11:39 AM | #
Trackback Pings
TrackBack URL for this entry:
http://amysrobot.amyinnewyork.com/mt/mt-tb.cgi/1274
Comments
Post a comment