« The Russian political machine | Home | Amy's Robot turns 10, suffers midlife crisis »
March 6, 2012
Who'dat?™: Photographers go one step further with their guess
Last week we played a round of Who'dat?™ with a photo of a weirdly puffy, facially warped, and (in my opinion) completely unrecognizable Lindsay Lohan. We asked you to name the celebrity, and also guess what decade of her life she was in, because in the picture she looks like she could plausibly be in her 30's, 40's, or 50's. (She's really only 25.)
But apparently I didn't go old enough for New York's paparazzi, who seem to have mistaken Debbie Harry for Lindsay.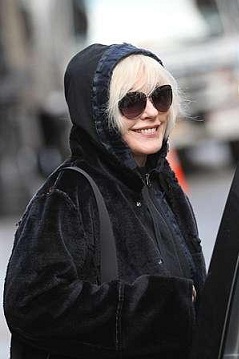 Debbie Harry is 66 YEARS OLD. Sure, she's a remarkably gorgeous 66 year-old, but this still means that Lindsay Lohan appears to the public to be an elderly woman. Lindsay's own paternal grandmother is 71.
For context, here are some of the guesses I heard about who the Who'dat? picture was:
Joan Jett
Nicole Richie
Jennifer Tilly
Lil Kim
Donatella Versace
But I like the photographers' guess best of all. They're the professionals.
[tx ADM!]
categories: Celebrities, Who'Dat?
posted by amy at 4:42 PM | #
Trackback Pings
TrackBack URL for this entry:
http://amysrobot.amyinnewyork.com/mt/mt-tb.cgi/1284
Comments
Post a comment