« Tinker Tailor Soldier Dead Spy in a Bag | Home | Dark Shadows and 70's horror camp »
May 5, 2012
MCA's other hugely successful career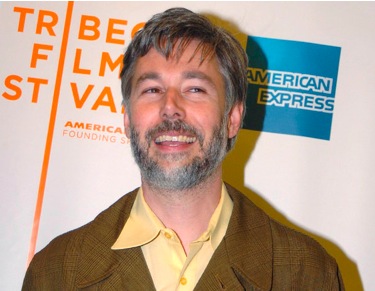 You can look at Facebook, Twitter, and all global media to witness the explosion of love that poured out yesterday when the news hit that MCA had died of cancer. We all love The Beastie Boys, and it seems like hardly anyone knew how sick Adam Yauch really was, or that he was in serious decline. I can't think of another recent death that my generation felt this personally.
Beyond his Beastie status, Yauch was also a major force in indie film. In just four years his distribution company Oscilloscope Pictures (a division of his larger company, Oscilloscope Laboratories that also produces movies and music) has put out a whole lot of awesome movies, including some of the best things I've seen in recent years.
Here's the whole list of movies they put out--highlights include Exit Through the Gift Shop, Wendy and Lucy, Meek's Cutoff, Treeless Mountain, Dark Days, The Messenger, his own directorial debut Gunnin' For That #1 Spot, and Bellflower. I haven't seen that last one, but this EW article includes an interview with the writer/director of Bellflower, who spent time with Yauch last year when the movie was coming out:
I've hung out with him a couple of times. He's awesome. He took me to go meet Jack White when I was in Nashville. I was like, 'What the hell has my life come to? This is crazy!' Adam, oddly, has a lot in common with me. When I met him he was like, 'Were you one of those kids who used to make bombs?' I was like, 'Yes. This one time I almost blew my friend up.' And he was like, 'I did the same thing!'
When Criterion released a DVD anthology of Beastie Boys videos (with many directed by Yauch under the name Nathaniel Hornblower), Adam Yauch listed his Top 10 Criterion Collection movies, with funny non-sequitur commentary that almost (but not quite) hides the fact that he was a major movie buff.
Also related to his film career, here's a funny, goofily defensive proto-Borat attack letter he wrote as Hornblower to the NY Times in 2004 in response to their review of the B Boys' "Ch-Check It Out" video. This letter's having a second life since yesterday; the Times reviewer, Stephanie Zacharek, tweeted that he was right.
Here's MCA crashing the VMA's in 1994 when "Everybody Hurts" won best video instead of "Sabotage". He's in character as Nathaniel Hornblower, Swiss filmmaker, both pre-empting and outdoing Kanye and Sacha Baron Cohen. He comes on at 2:48.
categories: Celebrities, Movies, Music
posted by amy at 11:46 AM | #
Trackback Pings
TrackBack URL for this entry:
http://amysrobot.amyinnewyork.com/mt/mt-tb.cgi/1301
Comments
Post a comment