« Celebrity lovebirds | Home | Cannibalism comes to the theater »
June 25, 2012
World gets ready to scream, tear the spangly thong off of Magic Mike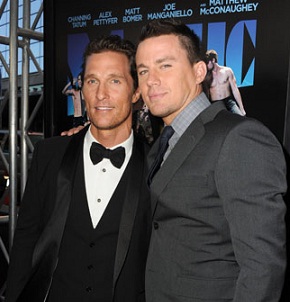 Magic Mike premiered in LA over the weekend, and today's Hollywood Reporter is like a hormone-addled divorcée going into a frenzy over a catwalk full of tan manflesh in fringed chaps. As we all get ready to head to the Xquisite, the fictitious Tampa venue in which Channing Tatum and his stripper buds collect dollar bills in their American flag thongs, I thought I'd share some of the finer moments of the recent press surrounding the movie.
At an interview before the premiere, dedicated Method actor Matthew McConaughey relates the moment when he was concluding one of his routines on set, and the women in the audience (who now that I think about it probably weren't professional actors) rushed the stage, jumped McConaughey, and ripped off his thong, leaving McConaughey "naked in a pit of screaming women." I'm sure when audiences see this scene, we'll all be transported by McConaughey's commitment to absolute artistic integrity and truth.
When asked what criteria they all used in selecting their individual thongs, by color, size, or fabric content, Steven Soderbergh, that coy little minx, modestly stated, "It was a very personal process. I know what I like, and it didn't take long."
Stripper costumes featured in the movie include: fireman, cop, soldier, sailor, cowboy, and in the case of Matthew McConaughey, "black leather pants with the butt that comes off."
OK, this is quickly devolving into a journey into the mind/soul/ass-less leather pants of Matthew McConaughey, but the man is just a quote machine. When asked what it was like to work with Steven Soderbergh, here's what he said, with his no-rules approach to word usage:
He's very much a minimalist as far when he implements himself. He hires people for a reason, so you better show up with your bags packed and ready to work, and know your man. That kind of schedule is great for an actor because as time suppresses, you don't have time to over think stuff. Don't talk about it; show me. Press 'record' is what I like to say.
As for McConaughey, when he implements himself as club owner Dallas, the Hollywood Reporter review describes him as a "hilarious self-parody", a "gonzo showman in leather vest and tear-away pants", and a "self-deifying nut job". That's our McConaughey!
I'm not quite sure how to read the tone of this review, especially when it pointedly describes the stripper posse as "a heterosexual rethink of The Village People", then immediately describes their routine to gay anthem "It's Raining Men". Which reportedly begins with trench coats and umbrellas and, I'm going out on a limb here, probably ends with a row of naked dudes with shaved chests. I guess all strip clubs that feature male strippers have a similar aesthetic, whether it's women or men in the audience. At least in Tampa.

categories: Celebrities, Movies
posted by amy at 3:44 PM | #
Trackback Pings
TrackBack URL for this entry:
http://amysrobot.amyinnewyork.com/mt/mt-tb.cgi/1312
Comments
Post a comment