« Can we get some Coens? | Home | Directors and their egos »
December 19, 2012
Zero Dark Thirty: this is America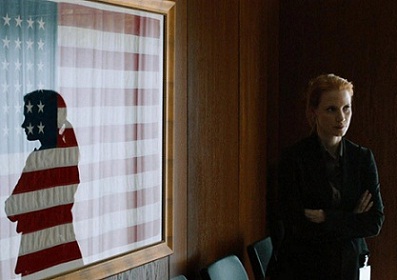 It already feels like the debate over Kathryn Bigelow's new movie Zero Dark Thirty has been going on forever, and it just opened in theaters today. I watched it last night and was totally knocked out. It's one of the best of the year: powerful, tense, complicated, heart-breaking--everything you want in a great movie. Plus, it shows how freaky Mark Strong looks with hair.
But the debate hasn't been about the movie itself; it seems to be about the access to classified information the filmmakers may or may not have had, and most of all, the morality and tactical utility of torture. Is the torture of our enemies ever OK? What constitutes torture? And does it work?
These are all the wrong questions, in my opinion, at least when talking about Zero Dark Thirty. The movie isn't asking any of these questions. Torture happened in our name, whether we like it or not. So did a lot of other things in our country's effort to avenge 9/11, kill bin Laden, and thwart terrorism: bribes, bombings, occupation of sovereign nations, many thousands of military and civilian deaths, and lots and lots and lots of public money spent on wars. These are all things our country did, and does.
The real question here, from the movie's perspective, is: was it worth it? After all that, did we get what we wanted? There isn't a clear answer in the movie, but those questions are a lot more interesting, and maybe scarier, than a rehashed debate over the effectiveness of torture. And for the record, no useful information is extracted during a torture scene in this movie. It's Jessica Chastain and her brain that find bin Laden, not waterboarding.
As technically amazing as it is, I found it hard to get inside the movie at first, because I wasn't feeling emotionally involved in the characters or the story. That all changed by the end, but the chilly, detached style of the movie and the characters is one of the filmmakers' strengths. Just like in The Hurt Locker, we see war and intelligence through the eyes of people who aren't ideologues or deciders. They're hunting terrorists or defusing bombs because it's their job, and they're good at it. It's a procedural about our national desire for revenge, as performed by the people who fight our wars and avenge our deaths for us. It's a view of who we are as a country that we don't often get to see, and it's not comforting. The Hurt Locker is about a guy happily doing the incredibly dangerous job he was born to do, but Zero Dark Thirty barely has any of that triumphant spirit. It all ends in tears.
This movie is going to win Best Picture, isn't it? That's gonna be one bleak clip montage.
Also, it generated my favorite movie poster of the year. The redacted one. So great.

categories: Celebrities, Movies, Politics, War and Security
posted by amy at 11:35 AM | #
Trackback Pings
TrackBack URL for this entry:
http://amysrobot.amyinnewyork.com/mt/mt-tb.cgi/1334