« The mental world of children's merchandising | Home | FUMTV »
June 17, 2008
In honor of OTB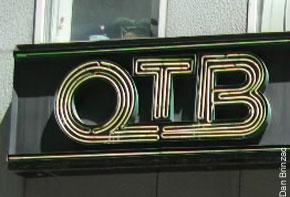 Last weekend our city saw a dramatic, last-minute state takeover of New York's Off-Track Betting industry, which saved it from getting shut down. Thank you, Governor!
In honor of city's 68 betting outlets and 1,500 employees, I decided to exercise my hard-won wagering liberties and head to my local OTB to play some ponies.
The short version: it was pretty fun. The other people there were helpful and friendly, if not exactly interested in making small-talk. I made a bunch of bets and came out ahead by $5.25, and the OTB was overall not as depressing a place to spend a half-hour as you might think.
Having no idea how betting on horse races works, I completely relied on the guidance and patience of the staff at the OTB near my office. I learned a couple things from the very nice woman who got me set up: it's easiest to just tell the staff person at a betting window what races and horses you want to bet on rather than fill out a complicated lottery-ticket style card. You can bet on as many horses as you want in any given race, right up until about a minute before the race starts. There are television screens around the room that post details and odds for all the upcoming races at each of about 10 tracks.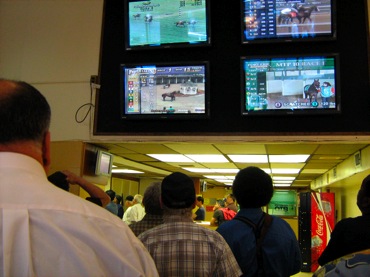 About the atmosphere: I was the only woman in there, apart from 1 or 2 staff people. The rest of the 50 or 60 patrons represented a cross-section of male New Yorkers: all ages, races, nationalities, a few different languages, guys in baseball caps and jeans and guys in expensive-looking suits. Some were in and out in 10 minutes, some made themselves at home.
Between races, there was a lot of milling around, scrutiny of the Daily News racing charts, and conversations that went like this:
"I hate Delaware Park, it's just an awful track. I play that track, and if I had played the triple, I would have won $400. Instead I pick favorites who don't pay. Am I right?"
"Of course you're right. You're always right."
"Delaware sucks. It's a terrible track."
A nice Danny Glover look-alike who I sat next to compared picks with me, and we both won a bunch of cash on a horse non-ironically named Price of Freedom. He said he comes in there pretty regularly, but is also "trying to keep my marriage", so has to be careful. I asked him if he was glad the state kept all the parlors from closing, and he said he would have been relieved to see them close. No matter what had happened, you would still be able to bet online, he said, or call in bets, but the OTB outlets make it almost too easy to play too much.
Other guys were more openly enthusiastic that the outlets are still open, and one dude loudly thanked a teller at a window for making it through the negotiations and staying in business.
The OTB website has a lot of information about how to bet, how odds work (I have no idea what the mathematical basis is for this stuff, but if you're going to go to an OTB, just print out the odds page and bring it with you for reference) and the daily race schedules.
Betting on horses at an OTB reminded me a lot of playing craps at a casino: you can either figure out how to play the complicated way, like some of the serious players in there are doing, or just do it the simple way. You can make bets on sequences of horses or across a series of races, or you can play the easy way and just bet on a horse or two to win, then make some cash, then go to the nearest bar and feel secure in your fiscal responsibility because you are essentially drinking for free. Perfect!
UPDATE: It looks like the Daily News was at my local OTB yesterday, too. They interviewed a diverse bunch of players (including a retired Navy vet, a guy known as "Johnny Mac", and a preacher) who were generally not too excited about the 21% of their winnings that the state collects. I contributed $1 yesterday, part of the estimated additional $9 million the state will collect every year.
categories: Business, NYC, Robot-on-the-Spot
posted by amy at 1:27 PM | #
Trackback Pings
TrackBack URL for this entry:
http://amysrobot.amyinnewyork.com/mt/mt-tb.cgi/832
Comments
Post a comment