« Times Square, dirty and Dursty again | Home | My new favorite New Yorker: Randy Credico »
June 30, 2008
IM movie clips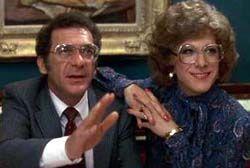 A new service called PopTok allows users to insert video one-liners of movies into instant messages and email. Creator Illi Edry describes the inspiration for his service:
"Everybody quotes films. We produce one hour of television broadcasting for prime time at a cost of millions and at the end of the day, people quote one sentence. I came to the realization if the one hour is supporting that sentence, let's keep the sentence."
Of course, it's this mentality that led to the whole world repeating "You're so money!" and "Yeah baby!" over and over again in 1997, but I see his point. (Damn, my references are old. I just can't think of any annoying catchphrases from Iron Man.)
The service is being tested now, but they say they already have 2,000 snippets licensed from studios that you can drag into your IM conversations. Neat!
The site offers a few examples of their available clips, which are mostly famous 2-3 second bits from movies like Austin Powers, American Psycho, Who Framed Roger Rabbit?, Borat, Scarface, some Bugs Bunny, and a Kanye video.
I thought I'd suggest a few clips I'd like to see:
Suggestions?

categories: Media, Movies, Technology
posted by amy at 3:20 PM | #
Trackback Pings
TrackBack URL for this entry:
http://amysrobot.amyinnewyork.com/mt/mt-tb.cgi/839
Comments
Post a comment