« Germany-Turkey throwdown | Home | IM movie clips »
June 26, 2008
Times Square, dirty and Dursty again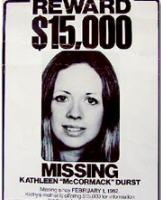 Today the Times examines the recreation of 70's era Times Square on W. 38th St, for a movie called All Good Things. The movie is about (or at least "inspired by") the story of Robert Durst (crazy oldest son of the prominent real estate family) and his first wife Kathleen who, along with just about everybody else in Mr. Durst's life, is presumed to have died under very mysterious circumstances.
The movie is directed by Andrew Jarecki, who did the excellent documentary Capturing the Friedmans, another story about a cryptically messed-up family. Kirsten Dunst plays the long-lost and similarly-named Kathleen Durst, who vanished in 1982 after 10 years of marriage to Robert. Ryan Gosling also stars, and I'm guessing/hoping that he plays Durst. If you thought his delusional, tic-y loner in Lars and the Real Girl was a little unnerving, wait till you see him shaving his eyebrows and doing primal scream therapy.
You can read lots more about Robert Durst's epically strange and dangerous life in a very thorough bio. Highlights include Asperger's syndrome, witnessing his mother's suicide, almost certainly killing 3 people and dismembering 1, living as a not-very-convincing woman, and stealing a chicken salad sandwich.
The Times post goes into detail about how much Times Square has changed, and the regret that many New Yorkers feel for the transformation of the gross but thrilling area into a mall.
Earlier: Robert Durst is a free man, getting back into real estate

categories: Crime, Culture, Movies, NYC
posted by amy at 3:34 PM | #
Trackback Pings
TrackBack URL for this entry:
http://amysrobot.amyinnewyork.com/mt/mt-tb.cgi/838
Comments
Post a comment