« Top movies of 2011 | Home | Tweens and Axe: Girls edition »
January 5, 2012
Myanmar gets its own manufactured girl group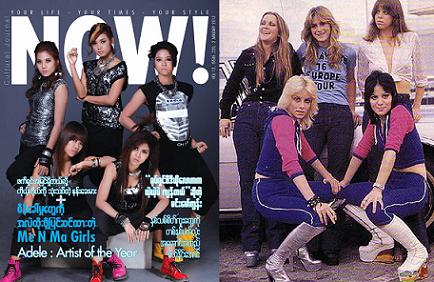 If one requirement of a country's membership in modern, industrial society is its construction of a pop group whose youthful members were recruited and assembled by a group of producers and financiers, then welcome to the club, Myanmar! Cherie Currie and Baby Spice will show you around.
The Times has a feature on synthetic pop girl-group Me N Ma Girls (get it?), made up of five young women who were identified through a series of ads looking for girls with "energy and magnetic attraction," according to their manager Nicole May, an Australian dancer and graphic designer.
They seem to be the country's very first girl group, and though they haven't had real financial success yet, they have big dreams:
"I want this band to be famous and globally recognized. I want this band to hit Hollywood!" said Su Pyae Mhu Eain, a band member who studied zoology, specifically fish and shrimp, for her bachelor's degree. Her stage name is Cha Cha.
Cha Cha isn't the only member of Me N Ma Girls with an education to fall back on in case Hollywood doesn't work out. All five members have gone to college, with degrees in chemistry, math, Russian, and computer science. They might have easier post-pop careers than The Runaways (above), who were recruited by manager Kim Fowley before they'd had a chance to graduate from high school (and were, incidentally, huge in Asia.)
You can listen to their songs on Soundcloud, which are blandly produced, but offer the chance to hear young women rapping in Burmese, something you don't hear everyday. Like a lot of pop groups from non-Anglophone countries, they also sing in English, including lines from one of their catchiest songs, "Festival": "Hey you! Are you happy? You want some?" Here's the video, featuring the girls ecstatically partying down at an outdoor festival and lounging around a swimming pool while wearing the kind of long, demure sundresses that I think you'd only see in a girl-group video produced within an oppressive military regime.
categories: Culture, International, Music, Politics, Women
posted by amy at 2:19 PM | #
Trackback Pings
TrackBack URL for this entry:
http://amysrobot.amyinnewyork.com/mt/mt-tb.cgi/1266
Comments
Post a comment