« Hell's Kitchen dancers, Hell's Kitchen pervs | Home | Goodbye, 30 Rock »
January 29, 2013
Side Effects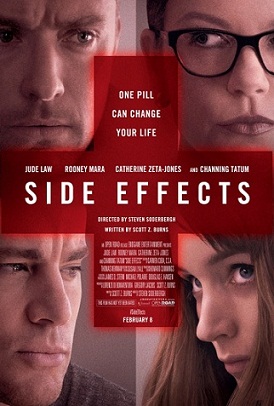 Steven Soderbergh has been putting out a new movie every few months for the last couple of years, and somehow he finds a way to make each one both really Soderberghy, and also unlike anything else he's ever done. The latest one is Side Effects, a thriller about a young couple and their involvement with prescription drugs. Reviews are going to start coming out for this movie, and they're probably going to reveal way too much and ruin the many surprises make this movie so much fun.
Since I don't want to ruin anything, all I'm going to reveal is that Soderbergh might have invented a new sub-genre with this movie: the pharmaceutical noir. There's some really smart and wicked commentary in it about the pharmaceutical industry and its many tentacles reaching into the world of wealthy people, but that's all in the background. He doesn't belabor the heavy stuff. And besides, he's already made Traffic, so "drug economy dissection" has been crossed off the list.
My other thought is how Soderbergh's recent tear of surprising, unpredictable, and often great movies has been a lot of fun, but each movie is a painful reminder of his allegedly approaching retirement from directing, or sabbatical or whatever he's calling it. You know how "30 Rock" has suddenly gotten really funny again, which only makes this week's series finale that much sadder? It's like Soderbergh is reminding us how great he is right before he leaves us hanging. Right now, his HBO biopic about Liberace, Behind the Candelabra is the only thing left on his IMDb page, after years of many reassuring little "(pre-production)" and "(filming)" notes on there.
Maybe he'll direct some theater, he tells New York Mag. OK, but unless he starts producing 2-3 plays per year, it just won't be the same.

Trackback Pings
TrackBack URL for this entry:
http://amysrobot.amyinnewyork.com/mt/mt-tb.cgi/1339
Comments