« Stop explaining, James Franco! | Home | The Grand Budapest Hotel »
March 3, 2014
Oscars and money for the pizza guy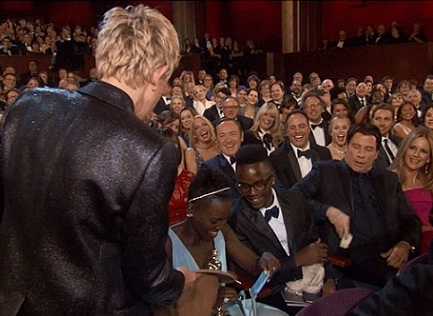 Last night's Oscars
didn't offer many surprises or memorable moments--I was pretty much OK with all the winners, and the night's predictability meant that I did *really* well in my office pool. My favorite moment was probably Robert Lopez and Kristen Anderson-Lopez and their
cute rhyming acceptance speech
for Best Song. Robert Lopez was one of the writers of
The Book of Mormon
and is now a
proud member of the very exclusive EGOT club
.
But the weirdest moment was when Ellen, having ordered some pizzas in a folksy stunt, went around with Pharrell's hat asking all the famous audience members for money for a tip. The men dug out their wallets and obediently put some cash into the hat. But then Ellen started chiding them for their cheapness. She called out Brad Pitt for only contributing a twenty, and then things heated up. People started leaning over each other to put more money into the hat, and for a few seconds we had a bunch of celebrities literally throwing their money around on TV, showing the world how amazingly generous they were in their tipping of an anonymous low-wage worker.
I can't tell if Ellen was doing it on purpose--goading the very rich and very famous into competitive coerced generosity--but it made the whole night look desperately show-offy. We all know the Oscars are about self-congratulation, but we don't usually get to see all those glamorous celebrities be such transparent camera hogs.
I hope the pizza guy got all that cash.
(Oh, he did!)

categories: Celebrities, Movies, TV
posted by amy at 4:51 PM | #
Trackback Pings
TrackBack URL for this entry:
http://amysrobot.amyinnewyork.com/mt/mt-tb.cgi/1371