« McConaughey™ | Home | American food trends: desserts vs. vegetables »
July 21, 2008
Viva Viagra?
I don't usually watch ads on TV, but I happened to be watching baseball tonight (TV for older men?) and caught this Viagra ad, which apparently has been playing for some time: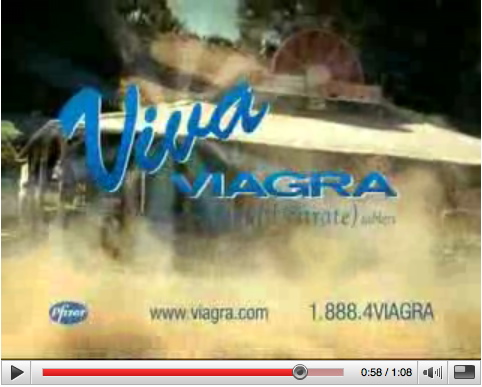 It features a bunch of dudes sitting around singing Viva Viagra to the tune of Viva Las Vegas. These are the manly lyrics:
Got me a honey gonna set my soul, gonna set my soul on fire!
At the end of the day, I'm not a guy to stray
because she's my heart desire.
Now this lonesome toad is sick of the road
I can't wait
CHORUS; Can't wait!
I can't wait to go home.
CHORUS: Viva Viagra! Viva, Viva, VIVA VIAGRA!
Apparently some people are worried that the Viva Viagra terminology encourages the use of Viagra as a party drug. I'm more concerned that the ad might make people think that Viagra will turn them into Elvis (the Pelvis).
Also, you may want to check out this before and after chart from Pfizer, celebrating ten years of Viagra.
categories: Business, Health
posted by Cushie at 10:19 PM | #
Trackback Pings
TrackBack URL for this entry:
http://amysrobot.amyinnewyork.com/mt/mt-tb.cgi/848
Comments
Post a comment