« Craig Brewer's next movie that might be good | Home | Who'dat?™: transformations »
March 5, 2013
Hands On a Hardbody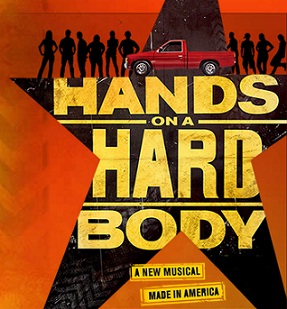 One of my favorite documentaries of all time is 1997's Hands On a Hard Body, which tells the story of an East Texas car dealership's publicity stunt of giving away a tricked-out Nissan pickup truck to the contestant who can keep one hand on the truck the longest. It goes on for many days. These kinds of contests aren't unusual, at least in Texas, but this documentary is the best kind of human drama--the stakes are high, the competition is physically and psychologically agonizing, and the contestants represent a wonderful cross-section of real-life Americans that I don't think the world's best casting director could have improved.
So of course I had to see the new Broadway musical Hands On a Hardbody, which is in previews. When you look at this production, it looks pretty weird: the book is by Doug Wright, who is most famous for winning a Pulitzer Prize for I Am My Own Wife, about a transgendered woman in Nazi Germany. BUT: Wright is from East Texas, so there you go. The music is by Trey Anastasio from Phish. I was a little worried about how jam band noodlings would work in a Broadway musical, but the songs are very catchy and represent a great range of American music: rock, country, soul, and gospel. I think it's going to do well--reviews come out in a couple of weeks.
One of the best things about the musical is that it adapts the fragmentary documentary into a narrative structure, and ties the contestants together into a coherent group, all driven by one thing: economic desperation. These people don't just think it would be nice to have a fancy truck, they really, really need this truck. There are stories of unemployment, families falling apart, and how much it sucks to be poor and stuck in a crappy little town. It's like if you take the original documentary and filter it through A Chorus Line, you'd get this musical.
Steven Soderbergh recently said that he's hoping to direct some theater now that he's stepping back from movies. This is just the kind of thing I think he'd be great at, if he decides to go big and commercial instead of doing oblique little Off-Broadway stuff. Lately his movies have been all about money and what people will do to get it. We don't often see poor, desperate people in big Broadway musicals, but maybe this will inspire him.
My main hope for this musical is that it will finally bring a proper DVD release for the documentary. Right now, used VHS seems to be the only way to see it (DVDs are selling for over $100!) It doesn't seem to be streaming anywhere, either. But if the show's a hit, maybe more people will get to experience the original in all its glory.
NY Magazine has an interesting explanation of the onstage truck, which the cast members move all over the stage with remarkable ease. It's a 2001 Nissan with the engine removed, on invisible rolling casters. Cool.

categories: Culture, Economics, Movies, NYC, Theater
posted by amy at 3:26 PM | #
Trackback Pings
TrackBack URL for this entry:
http://amysrobot.amyinnewyork.com/mt/mt-tb.cgi/1346