« Spitzer changes his mind | Home | NY Times coverage of the Farm Bill »
July 25, 2013
TUSH 2013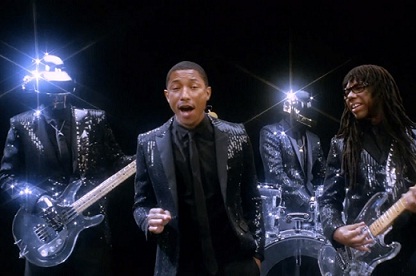 It's late July, so this year's Totally Ubiquitous Summer Hit, or TUSH, should already be out there, everywhere, an indelible, unavoidably catchy presence in your life.
So here it is: TUSH 2013 is "Get Lucky" by Daft Punk.
I suppose there's a potential title-holder in the other hit song to feature Pharrell, Robin Thicke's "Blurred Lines", but that song has several strikes against it:
"Blurred Lines" came out all the way back in March, while "Get Lucky"'s release date of April is closer to the ideal early-summer TUSH debut.
"Get Lucky" is groovy, irresistibly catchy, features Nile Rodgers on guitar, and is 1,000 times better than "Blurred Lines".
So even though "Blurred Lines" is actually at the top of the charts right now, "Get Lucky" meets more of the classic TUSH criteria: I hear it more often, and I like it a lot more. Random people polled by New York Magazine apparently agree--GL beat BL in a person-on-the-street survey conducted in both Times Square and at 125th Street, which is close enough of a cross-section of America for me.
This is the second year in a row that a non-American has grasped the TUSH. In recent years, it's been someone like Black Eyed Peas or LMFAO, but last year it was "Call Me Maybe" by Canadian singer Carly Whatever Whatever. It's even more audacious that this year's TUSH was generated by a couple of French techno robots.
I for one support the international-robotification of the TUSH!
Note: Canadian 80's rock band Loverboy should claim a little bit of credit for "Get Lucky"'s TUSH victory because of their 1981 album of the same name. This album features enduring cheeseball classic "Working For the Weekend" and, in my opinion, the greatest cover art of all time:
Trackback Pings
TrackBack URL for this entry:
http://amysrobot.amyinnewyork.com/mt/mt-tb.cgi/1364